Scoring a hatful somewhere in Eastern Europe and easing through qualifying, rapidly growing expectations throughout the country coupled with eventual heartache and misery. Sound familiar?
Following England's national side can be a strenuous task, even for the most patriotic of fans. However, there's no denying that as a nation, we have been spoilt rotten with the talent that has ran out under Wembley's arch.
Jules Rimet stands alone in England's trophy cabinet. With that solitary piece of major tournament silverware, questions asked as to whether England has underperformed over the years are valid. Both major tournaments have proved elusive to England managers in recent times, and still, there have often been occasions where top Englishmen miss out.
The projected international career of a striker who registers 229 goals in 509 domestic appearances, should be one steeped in caps and moments which capture the hopes of a nation.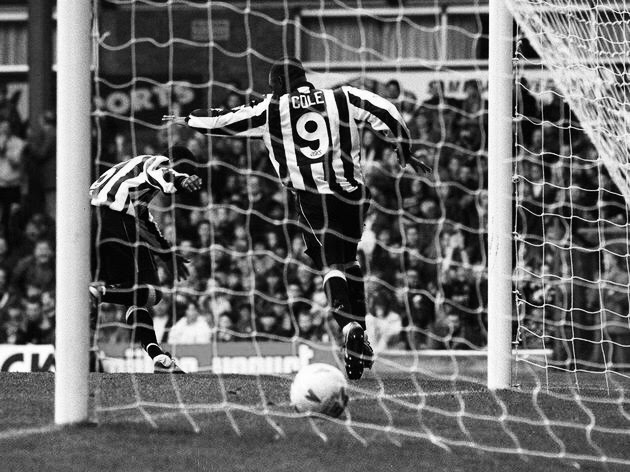 Andy Cole's international career was the opposite. Domestic form that would make most a shoo-in to start games, Cole only managed to win 15 England caps. The amount not befitting his capabilities on the pitch.
ENGLAND DEBUT
In what will now make a great pub-quiz question, Cole's first four caps for England came under four different managers. Terry Venables handed the twenty-three-year-old his debut in 1995, as a substitute against Uruguay. The same year in which Manchester United paid Newcastle United £6million, plus Keith Gillespie for Cole's services.
Cole readies himself on the sidelines; the fourth official stood next to him with two luminous orange number cards aloft. 16, and 9. Tottenham's Teddy Sheringham glances across and begins to make his way off the pitch. As Cole awaits his first England cap, increasing noise bellows out around Wembley. Nearly 35,000 England fans await. Cole, full of emotion and raring to go, holds his hand out to the man set to replace him. The Spurs forward, Teddy Sheringham, walks straight past him. No glance, no nod of the head, no words of encouragement. Sheringham walks past Cole, who plays the final 19 minutes of the match.
Embarrassment now overshadowing joy at a time which should be Cole's proudest. Sheringham would swap London for the north of England two years later where the pair would share a dressing room. Although Old Trafford wouldn't recognise from their performances together, Cole and Sheringham hardly muttered a word to each other during their time donning the red of Manchester.
England's managerial instability oversaw a less than perfect start to life in the national side for Cole. While the striker performed at such a high level in the Premier League, the lack of consistency in the dugout at international level would set the foundations for an underwhelming seven-year international career.
Glen HODDLE AND Andy COLE
A 25-minute appearance from the bench signifies Cole's second England cap, replacing Ian Wright in the process. Glen Hoddle, the new man in charge, announced the thirty-man provisional squad for the World Cup in France in May 1998.
Alan Shearer, Teddy Sheringham, Les Ferdinand, and a young Michael Owen named as the strikers who the country would pin their hopes on during the tournament.
Hoddle's provisional squad overlooked Cole's 15 league goals, with the Premier League's joint-top scorer, Dion Dublin, getting the nod from Hoddle. Blackburn's Chris Sutton, ignored himself, and Owen, completed the English goalscoring trio which spearheaded the scoring charts that year with 18 each.
Cole's omission from the trip to France compounded with Hoddle's comments to the press on the decision to snub him. A move that infuriated Cole and left him perplexed as to why this wasn't a conversation held behind closed doors. Hoddle peddled the rhetoric that Cole wasn't clinical enough in front of goal to feature in an England side he managed. Hoddle told reporters that the United man needed five chances to score one goal.
Following England's World Cup exit to Argentina, Hoddle was quizzed on whether Cole could be in the mix for the upcoming friendly against the Czech Republic:
"THERE HAS NOT BEEN ENOUGH TIME SINCE THE WORLD CUP FINALS FOR COLE TO SORT OUT THAT ASPECT OF HIS GAME"

Glen Hoddle
Hoddle, referring to previous comments on his wastefulness, remained unchanged in his response. The six Manchester United goals which Cole had registered so far that season, seemingly forgotten about by the gaffer.
Cole, who finished his playing career as the Premier League's third-highest all-time goalscorer, added weight to the feud and returned fire publicly. Amidst an eye-catching run of form in Manchester, The United hitman reportedly spoke out. Cole labelled Hoddle's behaviour towards him as being cowardly, and that his comments were diabolical and disrespectful.
Cole was convinced that Hoddle's reasoning for leaving him out of the international squad was not professional, but personal. Cole told the press that he was so angry with the England manager that in the unlikely event that he picked him for an international fixture, he would need to seriously consider it. Cole further questioned why Hoddle continued to speak to the press instead of talking to him in person, highlighting Hoddle's lack of bottle to say it to his face.
Hoddle's 'loopy remarks' about disabled people, as described by Cole in his 2010 newspaper column, led to Hoddle's sacking as England's man in the hot-seat. In the friendly scheduled after the Czech Republic game, Cole received a call up from caretaker boss Howard Wilkinson. Cole came off the bench again, in a 2-0 loss to France.
EURO 2000 IN THE CROSSHAIRS
Paul Scholes' hat-trick and Cole's fourth cap arrived in the 3-0 Euro qualifying win over Poland. Cole's first full ninety minutes in an England shirt for his country.
Newly appointed England man, Kevin Keegan, had allowed Cole to prove his worth in the fixture. Although neither Shearer or Cole were able to register on the scoresheet, the latter would have been hopeful of striking up a long and prosperous partnership with the England captain.
Despite the vote of confidence in Keegan's first game in charge, the two-time Ballon d'Or winner would struggle to accommodate Cole in his plans. The competition to accompany Shearer was offered by an on-fire Kevin Phillips, Emile Heskey and Owen, drastically hampered Cole's minutes on the pitch leading up to Euro 2000.
Despite limited minutes, Keegan announced Cole in his thirty man provisional Euro 2000 squad alongside those previously mentioned. Robbie Fowler, another excellent striker whose England opportunities struggled to reach expected heights, was also included.
In a cruel twist of fate which we see so often in football, Cole's chances of heading to a major European tournament are in doubt. Cole is rested from a 0-0 friendly with Brazil and given several days to shake off a niggling foot injury. Keegan asked for the United man to instead turn his focus to training and rehabilitation. If Cole could accomplish this and prove his fitness, he would have one foot on the plane.
At a press conference held to announce the 22 man squad a week later, Keegan revealed his plans to the nation:
"ANDY COLE HAS NOT BEEN DROPPED. HE IS INJURED. IF HE HAD BEEN FIT, I WOULD DEFINITELY HAVE TAKEN HIM."

Kevin Keegan
BLACKBURN SWITCH IN SEARCH FOR WORLD CUP DELIGHTS
England's early exit in Euro 2000 signalled the beginning of the end for Kevin Keegan. Three points from nine ultimately nowhere near good enough for the FA and the fans who expect so much. A Dietmar Hamann free-kick during 'old' Wembley's last ever fixture led to Keegan's famous resignation in the Wembley toilets. England's poor form was inevitably leaving a mark on Keegan, who decided that he wasn't the right man to galvanise his current squad into competing for honours. The England manager merry-go-round continues.
Andy Cole, now thirty years old, makes the switch to Blackburn on the turn of the year in the January 2002 transfer window. Sir Alex Ferguson wished for him to stay at Old Trafford and add to his five league titles; however, the inability to promise a regular run of games in a World Cup year would ultimately advance Cole's move.
Less than two months on from making their club-record signing, Blackburn make the trip to Wales, specifically, the Millennium Stadium. Cole's Blackburn face Hoddle's Tottenham in what should be a cracker.
Christian Ziege cancels out Blackburn's opener, leaving the game finely balanced as the clock hits the hour mark. In the 68th minute, Cole does what he does best. There is no wastefulness here. The net ripples and ensures that he'll have to make more room on the mantelpiece.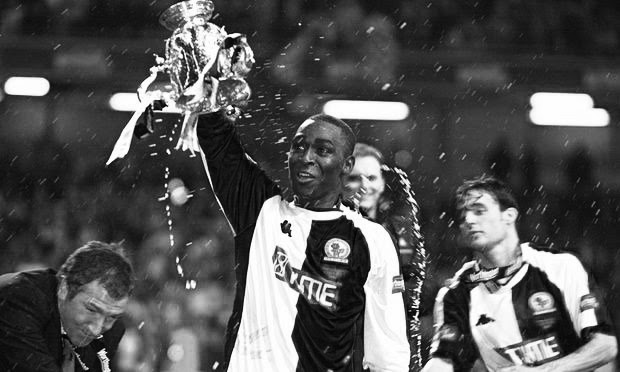 Cole's 68th-minute strike proved to be the winner as Cole repays a fraction of the £8million fee spent just seven weeks before.
"TO HAVE BEATEN ONE OF HODDLE'S TEAMS MAKES THIS FEEL REALLY GOOD"

Andy Cole
Unsurprisingly, Cole flourished in the second half of the season for Blackburn, scoring nine goals in fifteen Premier League games. Cole's fruitful return in his last eight games of the season would later prompt questions for Sven.
Last Shot for Andy COLe
Away from domestic football, the first foreign boss in England's history is unveiled: Sven-Göran Eriksson. The Lazio head coach would officially join in July 2001 at the end of his contract. An agreement was put in place for him to undertake England duties while his contract in Italy ran its course.
The Swede couldn't have asked for a better initiation as he began life at the helm. A promising 3-0 win against Spain announced the Sven-era and kickstarted a rise in nationwide expectation.
Cole played all but ten minutes in Sven's first three fixtures against Spain, Finland, and Albania, registering his first England goal. Following his starts and goal against Albania, Cole was subsequently left out of the next two fixtures.
Cole's omission from Sven's plans later explained in a phone call to the striker. Unlike previous England bosses, Sven contacted Cole to put his mind at ease regarding his absence from the squad. "I just want to take a look at other players; you'll be in my next squad," Sven explained.
Sven's gaze had wandered too far afield as Cole wasn't handed a start in England's remaining three World Cup qualifying fixtures. Cole oversaw the 1-5 Germany thrashing from the bench and kept his seat on the bench against Albania. A run out in the second half against Greece accompanied Beckham's last-minute pearler, as England booked their flight to South Korea and Japan.
It's one week into May and Cole is hitting a rich vein of form for Blackburn. The type of purple patch almost expected of him at Manchester United. Cole scores five in his last six Blackburn fixtures with a midweek trip to Anfield coming up on 8th May. With Sven's squad announcement pencilled in for Thursday 9th, this is his last shot.
Rovers played out a 4-3 classic at Anfield but failed to reign triumphant. Cole gets his goal. A sentence which rolls off the tongue and has bounced off the walls of commentary boxes for a decade. The marksman's tally: now six in his last seven. Can Sven look past him now?
Darius Vassel, who Cole outscored in the league, and Fowler, had impressed the boss enough to warrant selection. Positioned further along in Sven's plans, both receive the news they will be travelling to Asia for the 2002 World Cup. Alongside the Aston Villa and Liverpool representatives: Owen, Heskey, and Sheringham.
A gut-wrenching pill to swallow for a player who claimed that playing for England was his ultimate honour.
With Cole's Blackburn move unable to force Sven's hand, the striker called time on his international career. "That's me finished England-wise now, like I've always said, when my time comes I'll step aside, and my time has come now," said Cole.
A MASTER OF HIS CRAFT
Averaging nearly a goal every other game, Andy Cole could be found at stadiums up, and down the country, scoring goals like his life depended on it. The marksman found the net for a host of Premier League clubs including Fulham, Manchester City, and Portsmouth.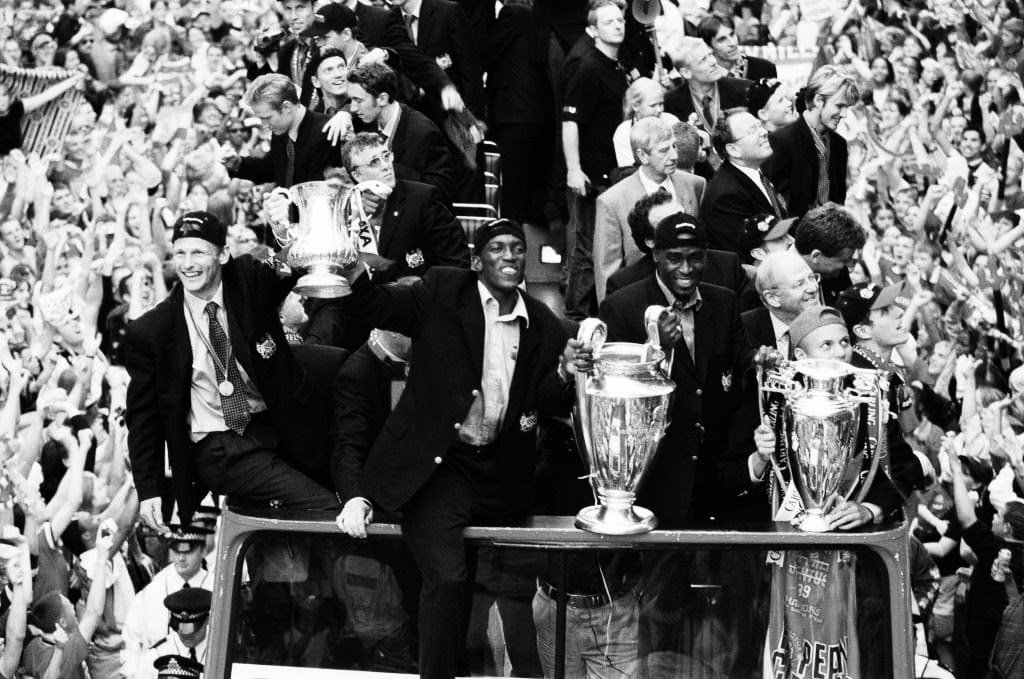 During his time in Manchester, Cole managed five Premier League titles and a European cup. Andy Cole has played himself into the conversation of the best English strikers to play the game. So, why did he only manage a handful of caps? Was it his outspoken nature and public feud with Hoddle? Did the FA not take too kindly to Cole airing his dirty laundry in public?
Regardless of why so few, many would agree that Cole amassed nowhere near enough England caps to match his goalscoring talent.
Andy Cole has trumped a handful of very talented individuals overlooked completely: West Ham's 799 appearance record holder, Billy Bonds, Sir Alex Ferguson's captain, Steve Bruce, and Liverpool's three-times European Cup champion, Jimmy Case. The aforementioned trio ended their playing careers uncapped by England.
Words and Graphics by @SamIngram_ /credit:Getty Images